Art Martinez de Vara's much-celebrated biography, "Tejano Patriot: The Revolutionary Life of Jose Francisco Ruiz, 1783 – 1840," has taken a new, exciting form as it's now available as an audiobook on Audible, Amazon, and iTunes! This transformative release brings the revolutionary life story of Jose Francisco Ruiz to a wider audience. Accompanying the release is a new seven-episode podcast, "The Man For Texas," which delves even deeper into Ruiz's remarkable journey and explores the critical moments in his life. Let's explore what makes this release so special.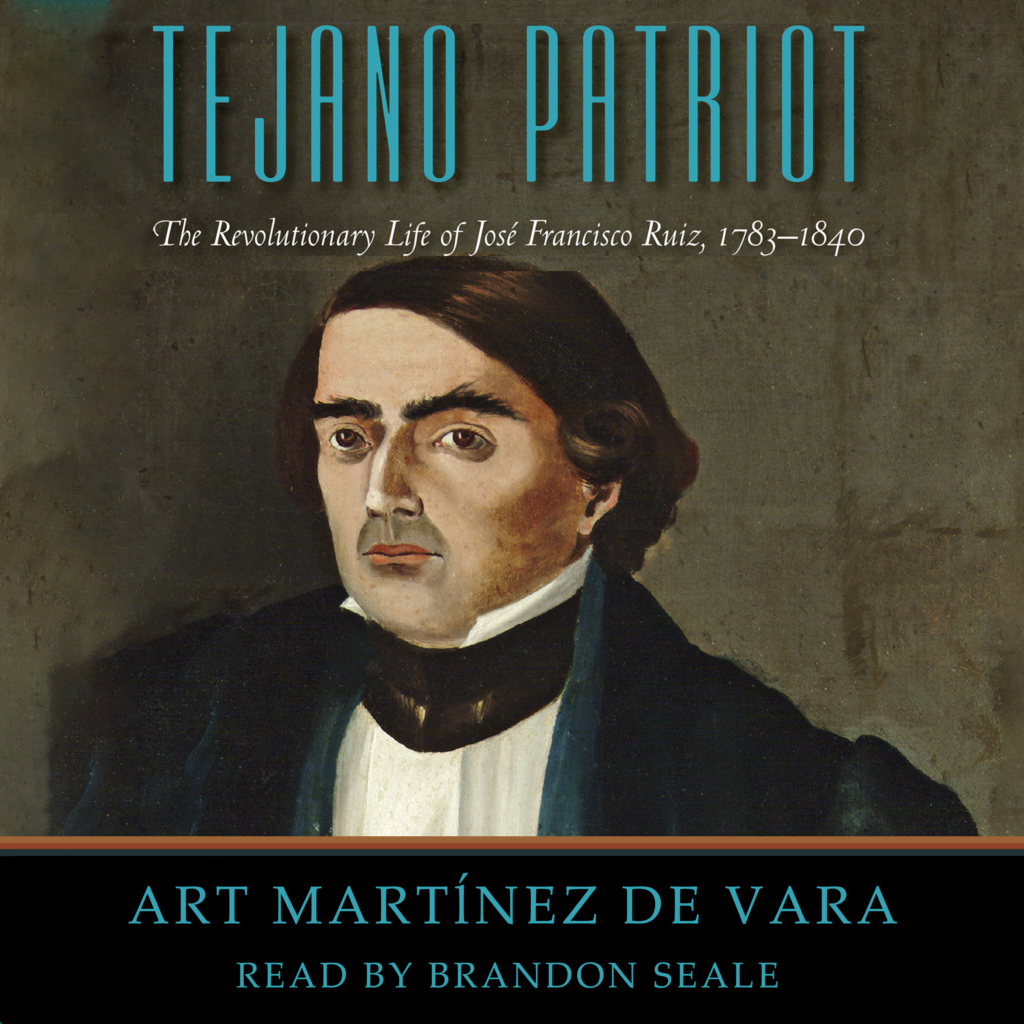 Some notable accolades for Tejano Patriot include the 2020 Sons of the Republic of Texas, Presidio La Bahia Award, 2021 Austin American-Statesman Best Texas Books, 2021 TOMFRA Book Award, 2021 TxSGA Book Awards, 2nd Place, Books by Professional Authors and more.
The audiobook version of "Tejano Patriot" is narrated by none other than the Texas historian and podcaster, Brandon Seal. Known for his popular podcasts, "A New History of Old Texas" and "Finding Medina." Seal brings his passion for Texas history and captivating voice to the narration, making the audiobook an entertaining and immersive experience. His expertise and engaging storytelling will transport listeners to the early 19th century, allowing them to connect with Jose Francisco Ruiz's life and the tumultuous times in which he lived that forged modern Texas.
Listen to a sample of the audiobook on Soundcloud: https://soundcloud.com/art-martinez-de-vara/tejano-patriot-the-revolutionary-life-of-jose-francisco-ruiz-5-minute-sample
In conjunction with the audiobook release, a brand-new seven-episode podcast titled "The Man For Texas" is set to launch on Thursday, November 9, 2023. This podcast is a deep dive into the life and legacy of Jose Francisco Ruiz. Each episode will uncover different facets of Ruiz's extraordinary journey, exploring his roles as a revolutionary leader, Indian negotiator, Senator and his lasting impact on Texas history. "The Man For Texas" will be available on all major podcast services, including Spotify, iTunes, Audible, and more. So, history enthusiasts, mark your calendars!
The release of "Tejano Patriot: The Revolutionary Life of Jose Francisco Ruiz, 1783 – 1840" as an audiobook and the launch of "The Man For Texas" podcast offer a unique opportunity to engage with the history of Texas in a fresh and dynamic way. Whether you're listening to the audiobook during your daily commute or tuning into the podcast from the comfort of your home, you'll be transported to a time when heroes like Jose Francisco Ruiz shaped the destiny of Texas. Don't miss out on this incredible journey through history!
More about Tejano Patriot from the Texas State Historical Association Press:
Art Martínez de Vara's Tejano Patriot: The Revolutionary Life of José Francisco Ruiz, 1783–1840 is the first full-length biography of this important figure in Texas history.
Best known as one of two Texas-born signers of the Texas Declaration of Independence, Ruiz's significance extends far beyond that single event. Born in San Antonio de Béxar into an upwardly mobile family, during the war for Mexican independence, Ruiz underwent a dramatic transformation from a conservative royalist to one of the staunchest liberals of his era.
Steeped in the Spanish American liberal tradition, his revolutionary activity included participating in three uprisings, suppressing two others, and enduring extreme personal sacrifice for the liberal republican cause. He was widely respected as an intermediary between Tejanos and American Indians, especially the Comanches. As a diplomat, he negotiated nearly a dozen peace treaties for Spain, Mexico, and the Republic of Texas, and he traveled to the Imperial Court of Mexico as an agent of the Comanches to secure peace on the northern frontier. When Anglo settlers came by the thousands to Texas after 1820, he continued to be a cultural intermediary, forging a friendship with Stephen F. Austin, but he always put the interests of Béxar and his fellow Tejanos first.
Ruiz had a notable career as a military leader, diplomat, revolutionary, educator, attorney, arms dealer, author, ethnographer, politician, Indian agent, Texas ranger, city attorney, and Texas senator. He was a central figure in the saga that shaped Texas from a remote borderland on New Spain's northern frontier to an independent republic.
Links to the audiobook:
Amazon: https://www.amazon.com//dp/B0CMJWL1Z5/
Audible: https://www.audible.com/pd/Tejano-Patriot-Audiobook/B0CMKL6PWY