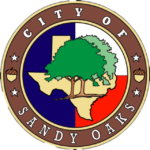 In 2013, the Martinez de Vara Law Firm represented the Committee to Incorporate Sandy Oaks, a group of residents seeking to incorporate their community into a municipality and avoid annexation by the City of San Antonio. The City of San Antonio announced an aggressive plan for southside annexation, which included the area now known as Sandy Oaks, Texas. After months of negotiations with the City of San Antonio, an election was held on the question of forming the City of Sandy Oaks in May of 2014. Voters approved the new city by a large majority. The San Antonio-Express News reported on the upcoming election on January 27, 2014.
————————–
Sandy Oaks to Vote on Incorporation
by Eva Ruth Moravec
SAN ANTONIO — A tiny area in unincorporated South Bexar County might be on its way to becoming a city as eligible voters among its 3,000 residents will decide in May whether to create a municipality called Sandy Oaks.
"It's been a long, torturous little process for them to go through," Judge Nelson Wolff said Monday about the Committee to Incorporate Sandy Oaks' two-year experience. "We'll see what the voters have to say."
San Antonio City Council members voted in November to release a 2.4-square-mile area once inside San Antonio's extra territorial jurisdiction, instead of a 4-square-mile area the committee initially wanted.
At that point, committee members including Vice Chair Jim Clement said they'd decline the city's offer because it lacked a commercial tax base.
"There was some negotiation on boundaries," said Art Martinez de Vara, the committee's attorney and mayor of Von Ormy, which in 2008 was the last city in Bexar County to be incorporated. Last year, San Antonio released about 9 square miles of its ETJ to Helotes.
The proposed city of Sandy Oaks would begin on Priest Road and stretch south to include the white buildings with maroon trim at Jack's Corner Store Cafe: a fireworks stand, a general store with everything from cereal and beer to cake mix and newspapers, and a future hardware store and RV park.
You can read the entire article on ExpressNews.com: ty
https://www.expressnews.com/news/local/article/Sandy-Oaks-to-vote-on-incorporation-5180132.php